Security Training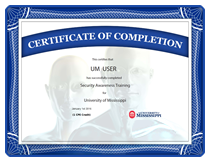 The Office of Information Technology provides information security awareness training at no-charge to all employees. Our online training service is a great way to keep up with the latest issues and techniques needed to protect university data. The course is self-paced, features up-to-date interactive video content, and can be completed in less than 2 hours.
All UM employees are encouraged to complete online training periodically. SAP GUI users or those with access to locally stored sensitive information are required to complete this training annually to maintain access. Contact us to request access or inquire about group training opportunities.
New Security Awareness Training Vendor & Requirements
The Office of Information Technology transitioned to Infosec Institute's SecurityIQ for security awareness training during Fall 2020. This training is required annually for users with SAP GUI or sensitive information access. Failure to complete the training in the assigned 90-day window will result in the loss of SAP GUI access.